Chepik DANIEL – son was born in 1988 in Moscow.
 – Chepik Sergei Mikhailovich (1953g.-2011)
.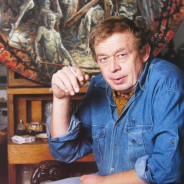 Known artist of Russia and Europe. Graduated from the Academy of Fine Arts in Sank -Petersburg, monumental workshop led by Professor AA Mylnikova. Since 1988 he has lived and worked in Paris. He painted portraits of Baroness Thatcher, Rudika Nureyev, a famous collector Rene Guerra. Triptych "Golgotha" Chepik SM was exhibited in the Cathedral of St. Peter in London. Buried in the cemetery Monmatr in Paris.
– Chepik Michael Maksimovic (1920g.-1972.) Honored Artist of Ukraine.His work "Steeplejacks" 1960. "Portrait of writer Mikhail Tikhonov" 1963.